Improving your smile can prove to be a very rewarding investment. This goes way beyond just making sure your teeth look straight. How can you have a healthy, beautiful smile where everything fits together properly ensuring optimal long-term function and esthetics?
Without a doubt, the advent of clear braces, or clear aligners, has changed dentistry and orthodontics in a major way. It has opened up possibilities for those that may never have considered traditional metal braces. Both teenagers and adults can benefit from clear aligners. Invisalign is one of the various major brands of clear aligners.
How much does Invisalign® cost?
Dr. Jimmy often gets the question, "How much does Invisalign cost?" There are several factors that determine how much Invisalign treatment costs. There's no "one size fits all" approach. It can depend on the complexity of treatment, length of time your treatment will last, and other factors discussed or prescribed by your doctor.
Payment Options
If you are a candidate for clear aligners in our office, we want to make sure you have affordable options to get the optimal treatment for the health of your mouth and smile. We're also committed to help you weigh the cost considering the long term value treatment can offer you.
We Offer:
Free consultations to see if you are a candidate for clear aligners.
5% discount for payment in full with cash or check
15% discount for those enrolled in our Dental Savings Plan
To file your claim for any orthodontic benefits covered by your dental insurance
Credit card as an acceptable form of payment
FSA and HSA as an acceptable form of payment
CareCredit as an option for those looking for a monthly payment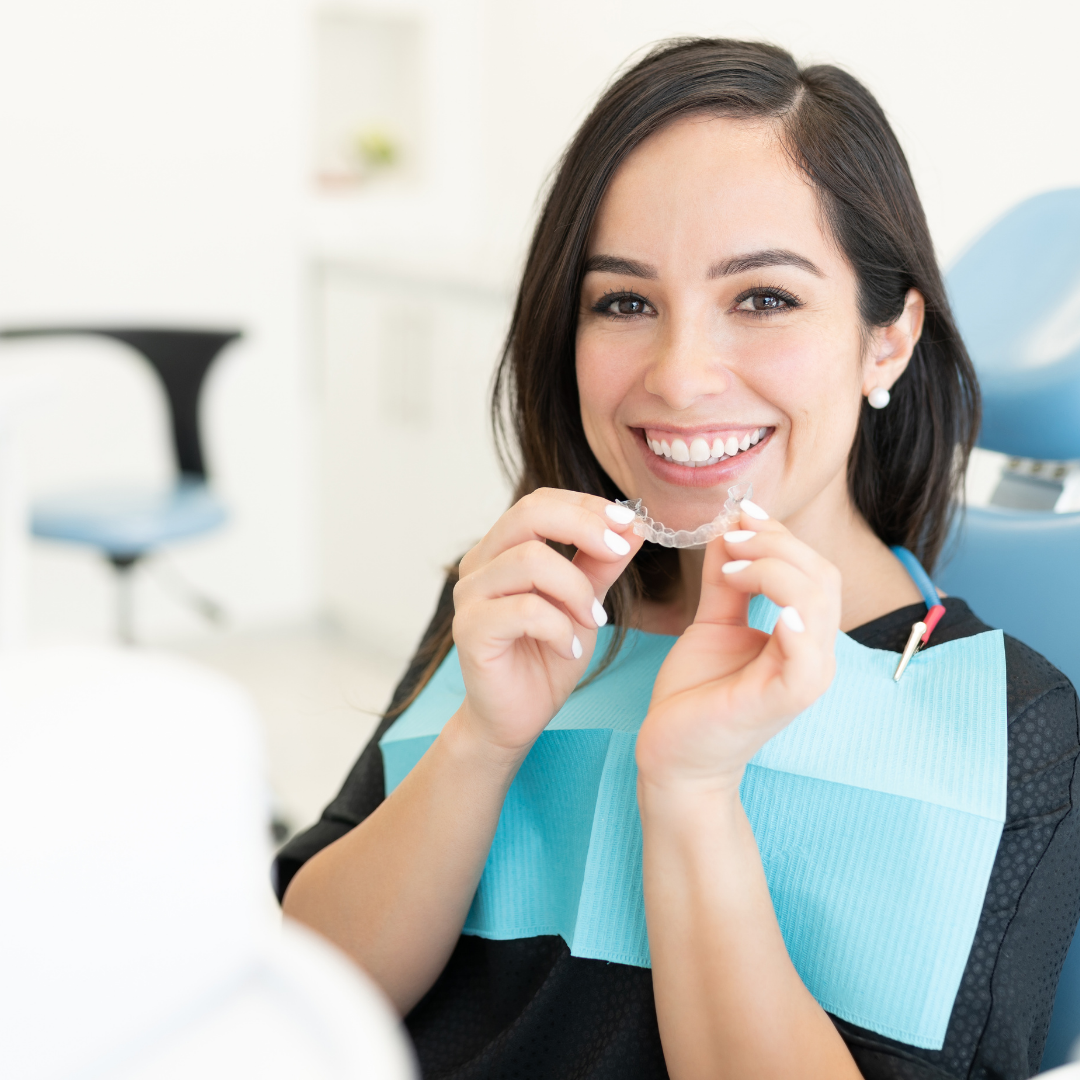 Am I a Candidate for Invisalign®?
In many ways, clear aligners have the capability to achieve similar desired results as traditional braces. It is important to remember that we are not yet to a point where we can compare them apples to apples. There are tooth movements and very specific situations where clear aligners cannot achieve what traditional braces can. For this reason, it's important to examine each person's mouth and development on an individualized basis. With so many different opinions from peers, options seen on T.V. and online, and even different opinions from treating dentists and orthodontists, it can all be a bit overwhelming.
We're here to help clarify and simplify the process. We love taking the time you need to get clarity on treatment options before you would ever make such an important decision concerning your oral health.
Where do I start?
It's very important to understand the "why" when considering braces or clear aligners. The need for teeth alignment may have to do with the health and function of your bite, esthetic or cosmetic values, or a combination of both.
1. Initial Consultation-The first step is to have a thorough consultation with your dentist. This gives you a chance to hear what their findings are with the health, development, function, bite, and esthetics of your mouth. Misaligned teeth can have long-term consequences that may not show up in the short-term. We give you a long-term prognosis of your oral health so you are aware of the likely consequences of not aligning teeth. This consultation also gives you an opportunity to ask questions and opportunity to start to understand the investment of time, energy and money that may be involved.
2. Dentist or Orthodontist?- In our office, we treat minor to moderately misaligned teeth. We don't recommend this option unnecessarily or if we can't get predictable outcomes in our office. We work with great orthodontists on a referral basis and will refer you to them if the complexity of your mouth deems it necessary. After the consultation is complete, Dr. Jimmy will give you a clear recommendation on whether we recommend pursuing treatment in our office or with an orthodontist.
3. Initial Records– The next step is the planning stage. Various records including a digital impression, or scan, x-rays and photos are taken in order to begin formulating your individualized treatment plan. We use 3D computer animated design technology to depict your custom treatment plan from the starting position of your teeth to the final desired outcome.
4. Custom Aligners– Your series of custom aligners are fabricated at an off-site lab, then sent to our office for you to start treatment.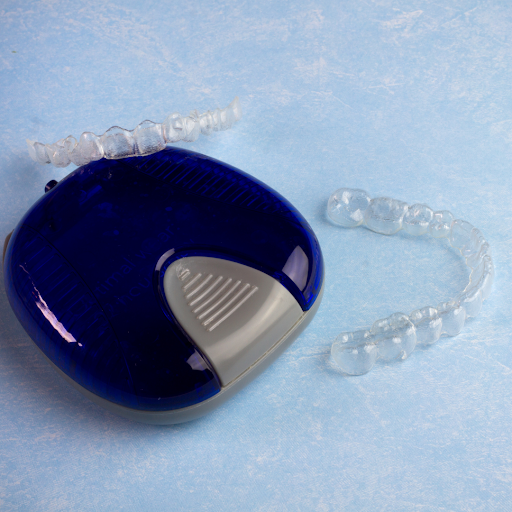 How does Invisalign® work?
Your aligners will be clear plastic material that is virtually invisible. Though it may take a few days to get used to speaking with your aligners in, most people won't notice you're wearing them. For the treatment to be effective, you'll wear your aligners 20-22 hours a day and only take them out when you eat, brush and floss. Each aligner gradually moves your teeth for 1-2 weeks before changing to the next aligner in the series. You can expect to have quick check-ups every 6-8 weeks to track your progress. When your treatment is complete, it will be necessary to wear retainers as directed by our office in order to maintain the position of your new smile.
What are the Benefits of Straightening Teeth?
Misaligned teeth can be caused by a variety of reasons, from genetics to bad oral habits. We like to emphasize that not all misaligned teeth require straightening. Sometimes it comes down to simply an esthetic decision. Many people tend to choose not to straighten their teeth due to costs, treatment time required, or discomfort they will have to go through. However, for those where treatment is recommended, straightening your teeth can have numerous benefits for your health, including:
Easier to Clean – Misaligned teeth can typically trap more food and plaque, making it more difficult to keep all areas clean through brushing and flossing. This can lead to a higher risk of decay and higher susceptibility to gum inflammation and gum disease.
Fewer Chips and Cracks – Teeth that protrude forward tend to chip and break more often. Straighter, correctly aligned teeth, can actually help protect your bite from chips and cracks, and lessen the likelihood of biting cheeks and tongue.
Less Wear – If your bite isn't evenly aligned, excessive amount of stress, or load, can be placed on some areas over others. This can lead to notches, or abfractions, in the tooth at the gum line, fractures in tooth enamel, and abnormal flattening of the biting surfaces. This can lead to significant bite changes over time and very expensive dental work in the future. Straightened teeth help distribute the forces evenly and help preserve natural tooth structure long-term.
Why Choose Clear Aligners?
Easier to keep your teeth clean vs traditional braces
Comfortable fit
Can be easily removed at any time
Rarely noticeable allowing you to speak and smile freely
No restrictions on types of food you can eat
People find they snack less- It's a weight loss program!
We look forward to a detailed conversation with you to listen to your concerns and determine if you are a good clear aligner candidate. If you would like to schedule a free initial consultation, schedule an appointment today at Downtown Dental, 765.345.8284.